PP Tape

Fibrillating Extrusion Plant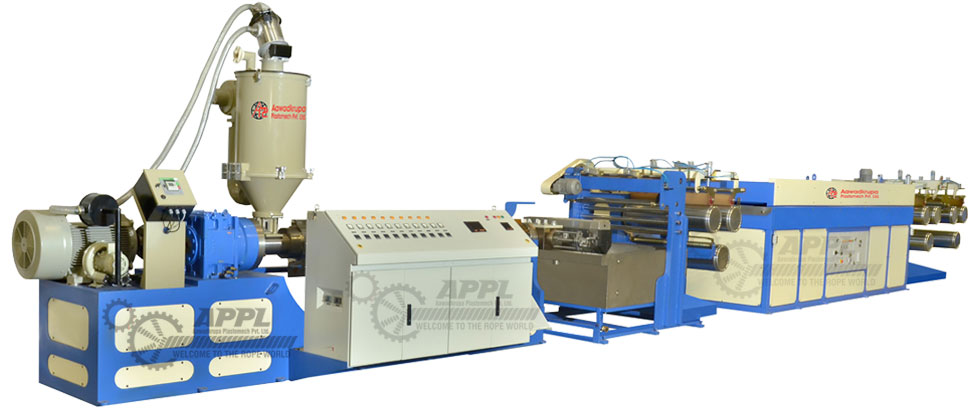 PP Tape Fibrillating extrusion plant Key Features
PP Tape Fibrillating Extrusion Plant Finish good product Extra strength & shining to Tape
PP Tape Fibrillating Extrusion Barrel Heater with double insulated glass woolen with SS make cover for power saving.
Air oven for double hot air circulation system (For extra softness).
Extruder will have longer life of screw & barrel.
PP Tape Fibrillating Extrusion Plant Screw & Barrel Material Nitried alloys OR Bimetallic Make.
As per customer required PLC System Controller.
Hopper Loader & Dryer System Attached with Extruder (With Extra Cost)
Plant Extruder in PP, HDPE & LD can be processed due to its special screw design.
Latest technology used to force the melt into the die very effectively in extrusion plant
Less Power Consumption and high production in our Extrusion Plant
AC Invertor & Motor which synchronizes the entire Extruder.
In PP Tape Fibrillating extrusion plant we provide winding process machine like Bobbin winder, Online ring winder, Roll winder and fishing winder.
Tape size (width) 1000mm
Pressure PID Indication through Alarm when mesh of screen changer is fill filled
PP Tape Fibrillating extrusion plant in battery back Up system provided in customer required
It collect all waste yarn which can be used in recycling which reduce production cost.
Sr no.
Model no.
Size (mm)
Production (kgs/hrs.)
1
APPL/PP-75 AC
75
100
2
APPL/PP-90 AC
90
150
3
APPL/PP-100 AC
100
200
4
APPL/PP-80 GF
80
250
ENQUIRY FOR PP TAPE FIBRILLATING EXTRUSION PLANT